L-CARNITINE 100 000 500ML
€26,90
L-carnitine is a substance that intensifies the conversion of fats by binding fatty acids contained in fats and allowing them to pass through the mitochondrial membrane of the cell, where they are generated energy. The product is enriched with chromium, which is an essential trace element affecting primarily the proper metabolism of nutrients in the body. (sugars, fats, proteins). And tea polyphenols (antioxidants)
Fat burning
Energy and performance
Top quality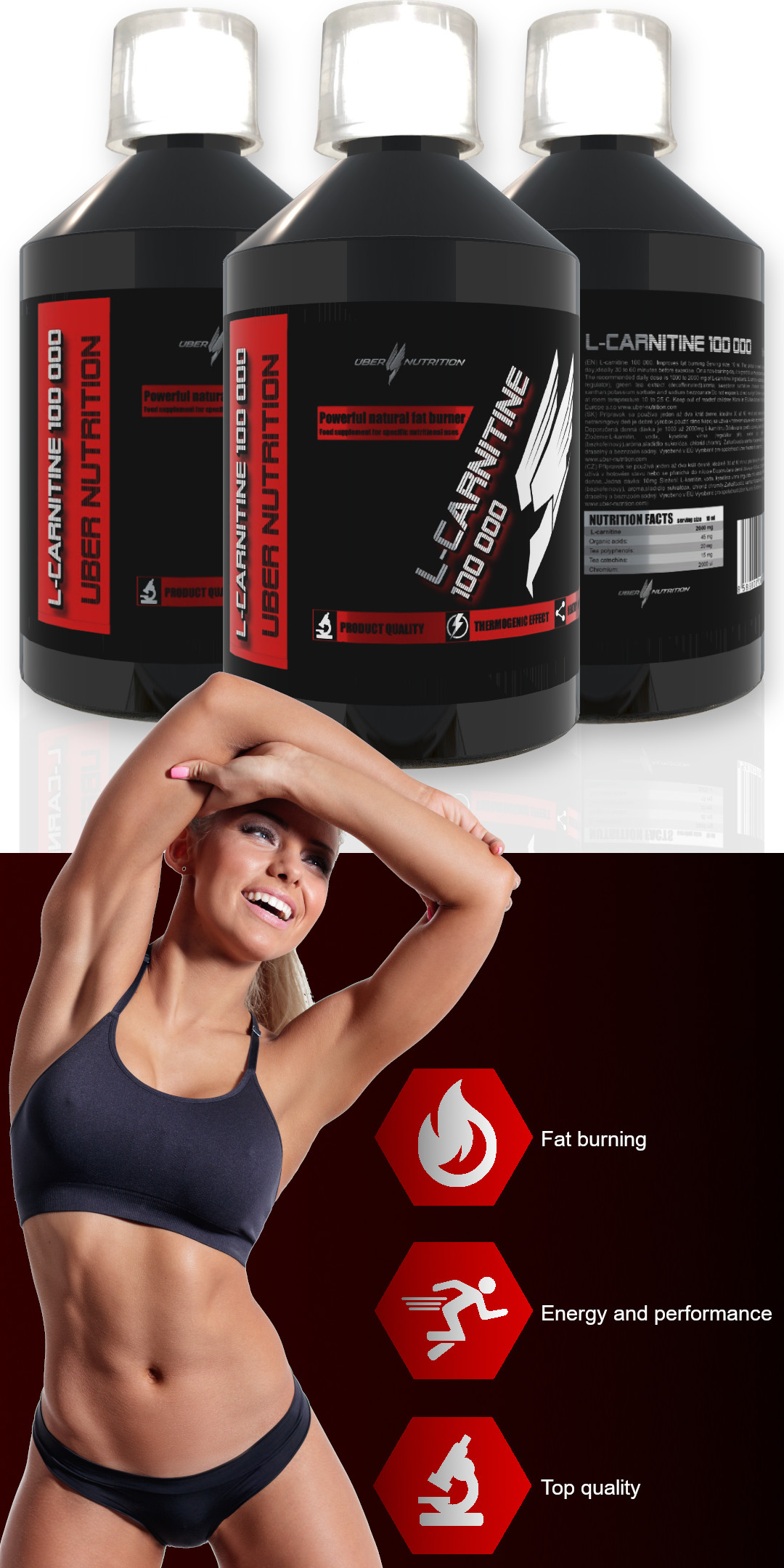 L-carnitine is a substance that intensifies the conversion of fats by binding fatty acids contained in fats and allowing them to pass through the mitochondrial membrane of the cell, where they are generated energy. The product is enriched with chromium, which is an essential trace element affecting primarily the proper metabolism of nutrients in the body. (sugars, fats, proteins). And tea polyphenols (antioxidants)
Fat burning
Energy and performance
Top quality
L-carnitine is an amino acid also found in the normal diet, which promotes the breakdown of fat and weight loss. It helps transport fat to the muscle cell during physical activity. It also encourages the proper functioning of the heart muscle, improving physical and mental performance and overall energy support of the body.
However, the normal diet does not contain enough of this amino acid that an active person needs during a reduction diet or during strenuous physical activity.
L-carnitine is the main receptor for the activation of fatty acids in cellular metabolism – it plays a crucial role in the burning of fats and their conversion into energy. L-carnitine is the most widely used weight loss supplement worldwide. 
It has a positive effect on the organs: 
HEART – favourably affects the activity of the cardiovascular system, reduces the risk of heart attack, increases the production of ATP
MUSCLES – supports protein synthesis, preventively affects muscle injuries, reduces the risk of muscle cramps, rises strength and endurance, reduces physical and mental fatigue
IMMUNE CELLS – supplements energy into immune cells, increases their activity, has a positive effect on immunity during the disease
NERVOUS CELLS – slows down the aging of the brain
LIVER – accelerates the regeneration of liver tissue, improves liver function, reduces fat problems and liver hardening
L-Carnitine is designed:
✅ for athletes (to increase long-term energy body fat loss)
✅ for overweight people (as an active support for fat cell burning)
✅ for seniors (favourably supports heart activity, improves memory)
✅ for vegetarians (in the plant diet is represented in small amounts – needed for the overall immune system)
Dosage:
The product is used once or twice a day, ideally 30 to 60 minutes before exercise. On a non-training day, it is good to use the product in the morning.
The drink is used ready-mixed or mixed into a drink.
The recommended daily dose is 1000 to 2000 mg of L-carnitine.
Dosage according to the measuring cup.
One dose: 5 to 10 ml (1 tablespoon)
Composition:
L-carnitine, water, tartaric acid (pH regulator), green tea extract (decaffeinated),
aroma, sweetener sucralose, chromium chloride. Thickener xanthan.
Preservatives: potassium sorbate and sodium benzoate.
Energy value 354Kj/81kcal
Protein (carnitine): 20g
Carbohydrates: 0g
Fat: 0g
Organic acids: 4.5 g
Tea polyphenols: 20mg
Tea catechins: 15mg
Epigallocatechin malate (EGCG): 5.75 mg
Chrome : 2000u
Warning:
Store in a dry environment, in a well-closed container at a temperature up to 25˚C, out of reach of small children. Protect from sunlight. Do not use as a substitute for a varied diet. Not suitable for children under 12 years.